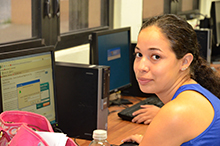 Connect, engage and discover the possibilities at the UVICELL Center. 
As the cornerstone of continuing education, the UVICELL Center is dedicated to connecting non-traditional students with the University community, by engaging them with the people and programs available and discovering their opportunities to grow personally, academically, and professionally.
The Spotlight is a new UVICELL feature created to promote the highlights, achievements, and unique points of pride of the Center.  When you join UVICELL, you join a community of learners who have been where you are. Hear their stories, learn about new programs, be inspired, and join the community.
Discounts or promotions
Check back for any upcoming promotions.