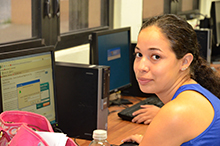 Connect, engage and discover the possibilities at the UVICELL Center. 
As the cornerstone of continuing education, the UVICELL Center is dedicated to connecting nontraditional students with the University community, by engaging them with the people and programs available and discovering their opportunities to grow personally, academically and professionally.
The Spotlight is a new UVICELL feature created to promote the highlights, achievements and unique points of pride of the Center.  When you join UVICELL, you join a community of learners who have been where you are. Hear their stories, learn about new programs, be inspired, and join the community.
Discounts or promotions
Evolution through Education 
Learn something new with our 1 Million Course Giveaway!
The UVI-CELL Center has partnered with one of its online content providers (Ed4Online) to offer you FREE Professional Development Training Programs.  From now until December 31, 2018, sign up for any of the courses listed below and only pay a $10 processing fee!  
To Register:
1. Click on the "Register Now" button below
2. Browse the courses and add your course selection to the cart
3. Check out and create a new customer profile 
4. Enter your credit card information to complete the order.  Please note purchase order and veterans vouchers will not be accepted for the One Million Course Giveaway Promotion.  
Programs include: 
Business Communication 
Business Leadership 
Business Management 
Business Spanish 
Children, Adolescent & Family 
DSM-5 Training 
Eldercare & Geriatrics 
Foster Care 
Human Resource Management 
Marketing & Social Media 
Microsoft Office 
Sales Training