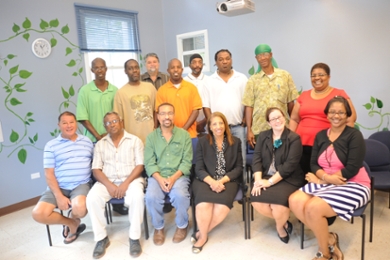 On Friday morning, students enrolled in the Certificate in Process Technology program stood proudly as they were recognized for their achievements in completing the intensive course. In November 2013, the UVICELL Center honored the first graduating class and now a mere four months later, the second class of graduates were honored for earning their certificates. The program is a collaborative effort between the UVICELL Center, Virgin Isles Tech and the VI Department of Labor. 
 The program was underwritten by the National Emergency Grant (NEG) through the V.I. Department of Labor to support dislocated HOVENSA workers.  It is a condensed version of the two-year Associates Degree in Process Technology offered at the University of the Virgin Islands (UVI) and incorporates all the technical components of that program.  The Process Technology Certificate provides an opportunity for participants to update and improve their skills while achieving valuable credentials from the University to assist them in gaining employment. 
 To be certified as process technologist, students were required to complete their coursework and pass comprehensive exams in five areas to include: Basic Refinery Processes and Economics, Safety, Health and the Environment, Process Control Theory and Applications for Operations, Statistical Quality Control for Operations, and Process Systems and Operations Troubleshooting.
 The graduates who received their certificates Friday were: Imtiaz Ali, Mark Jackson, Dorian Matthew, Steven Mayers, Cecil Sweeney, and Glennis Tyson. For more information on the Process Technology program, call the UVICELL Center at (340) 693-1100.