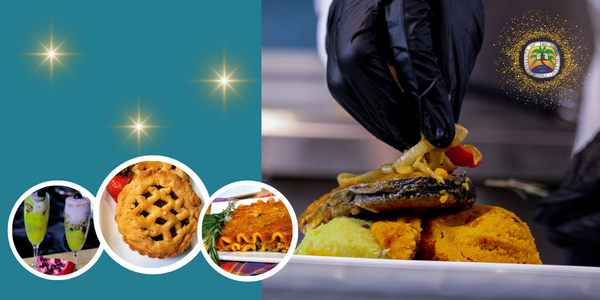 Get trained in the theory, practice, and art of cooking as you learn the craft of culinary arts in our student-learning lab under the guidance of our expert chef-instructors. 
The Culinary Arts Program is an experiential certification and training program that offers unique opportunities for learning at any skill level. It combines learning with modern and classical techniques and is designed to engage cooks at all levels and offer hands-on educational opportunities. From the serious home cook to the industry professional and all those in between, the UVI CELL Culinary Arts program has a program to meet your needs. 
The program features: 
Chef instructors with real-world experience 
Hands-on classes and workshops where you learn by doing
State-of-the-art professional kitchen
Certification Programs 
Certified Fundamental Chef (CFC)

: 

This 6-month certification program is designed specifically for beginners.

It combines hands-on learning and immersive industry experience using a learn-by-doing approach in the on-campus restaurant.   

Certified Fundamental Pastry Chef (CFPC):  This c

ertification option is also available.

If you meet the work and education criteria that match an ACF certification level above CFC, we'll work to match you with the appropriate certification at the time of the exam.
Upcoming Classes: 
Certified Fundamentals Cook (CFC)
Coming 2023 



Program Information
University of the Virgin Islands
Orville E. Kean Campus
Location:
13D Research & Strategy Innovation Center
(Former West Bay Supermarket Location)
St. Thomas, VI 00802
Contact:
General Email: culinaryarts@uvi.edu 
Kerish Robles
Program Manager/Executive Chef 
Phone: (340) 693-1355
kerish.robles@uvi.edu 
Jucinto Durant
Chef de Cuisine Instructor 
340-693-1358
jucinto.durant@uvi.edu
Alycia Lamb
Lead Pastry Chef Instructor 
340-693-1359
alycia.lamb@uvi.edu


Program Components
Wild Sage -- Student Learning Lab & Restaurant
Indulge in an elevated culinary experience with a Caribbean flair.
The concept for the name comes from Chef Robles' idea of highlighting the local wild sage plant. Often overlooked, the wild sage herb that grows in the Virgin Islands shows strength despite its growing conditions. The plant grows strong, providing pungent flavors and aromas to any dish. The program aims to bring strength to the flavors and concepts that the ever-growing culinary industry has to offer. With the Caribbean roots, guests and learners will be exposed to a wide range of culinary dynamics, while staying rooted in our culture.
At Wild Sage, skilled culinarians work together to craft a culturally creative, made-from-scratch, rotating menu, and experience. The Restaurant also serves as the "classroom" for interested foodies and the hospitality industry and provides a useful experiential learning opportunity. Our qualified staff, with years of industry experience, will provide guests with a hospitable experience through services.
Wild Sage provides a complete instructional environment for students, offering hands-on quality experiences. Instructors serve as managers of the establishment, while students get the opportunity to create dishes and menus, and run the entire operation (from the Front of the House to the Back of the House, to management and marketing.
The menu will change daily based on the season and the ingredients available. This affords culinarians and diners the opportunity to expand their palate for flavors of food from the Caribbean and around the world. You'll find a collection of classic and modern food and bakery items, elevated with a gourmet twist.
Wild Sage will also offer occasional fine dining labs and brunch events where interested culinarians will be in charge, and are able to showcase their customer service and culinary skills. When you visit the Wild Sage dining lab, you're not just getting a delicious plate of food, or a fresh-baked item. You're helping to train the next generation of culinary professionals. It's a wonderful and welcoming place to grab a bite to eat, meet a friend, or brainstorm innovative ideas in the mix of the University of the Virgin Island's Business and Innovation Center. Demonstrations on various food industry topics will occur live in the dining area, allowing patrons to feel like a part of the experience. The space will also be available to rent for your special events and trainings.
Certified Fundamental Pastry Cook (CFPC)
Certified Fundamental Pastry Cook (CFPC) 
This certification option is also available and requires no additional courses.  Interested candidates must sign up for the Certified Fundamentals Cook (CFC) program and pay the additional $450 exam fee.  
Higher-level Chef positions are also available.  If you meet the work and education criteria that match the American Culinary Federation (ACF) certification level above CFC or CFPC, we'll work to match you with the appropriate certification at the start of the program. You will be required to pay the additional registration fee and the cost of the exam to achieve the desired certification. Fees vary for each level. Once you meet the criteria for a higher level, the Program Manager will notify you of the next steps.
For more information on additional certification options, contact the UVI CELL Culinary Team at (culinaryarts@uvi.edu). 
Industry Courses & Certifications
Don't want to enroll in an entire certificate program and would prefer to take a few courses? Are you interested in becoming certified or recertifying without committing to a program? Do you need specific training or workshop for yourself or your staff?
The UVI CELL Culinary program seeks to offer these opportunities to you as well through Continuing Education Units (CEUs). These courses allow chefs to take classes without becoming certified or enrolling in an entire certificate program. Your years of hard work in a commercial kitchen may have taught you a lot, but your abilities can't be proven without the chance to put that knowledge into practice. Keep in mind that certification acknowledges information collected through years of work experience. Once space is available, anyone seeking to gain knowledge in a particular area is welcomed to take part. Want to upgrade your current certification levels? We help with that too.
Possible certifications offered, but not limited to:
American Culinary Federation (15 plus levels)

National Restaurant Association/ Education Foundation

ServSafe

American Hotel & Lodging Educational Institute
Community Classes
Feed your passion for food with hands-on classes, workshops, and demonstrations. The Culinary Program will offer classes in many areas for a wide variety of foodies. Whether you are in the industry, well-seasoned, young, a tourist, into agriculture, have a passion for a variety of cuisines from around the world, or you just love everything food, the Culinary Program will offer seasonal classes to meet your needs. You'll have the opportunity to taste-test while leaving your class with recipes and tips to reproduce at home.
Do you have a young budding chef that's serious about a career in the field? There is no better time to start learning the tricks of the trade than now. The children's classes will be seasonal, exciting, and engaging. ** Class fees will vary**
*Apprenticeships/Internships will also be offered in part with the American Culinary Federation, the V.I. Department of Labor, and other organizations.