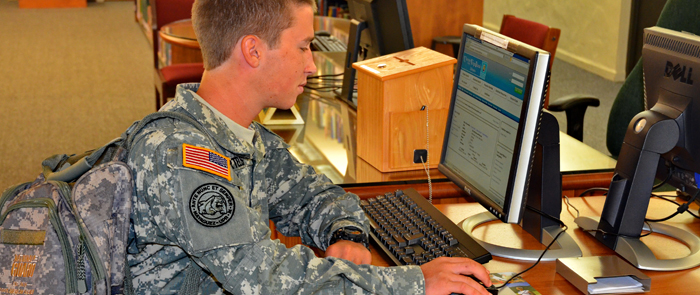 We appreciate the sacrifices that our active duty military personnel, veterans, and military dependents make as they serve our country.
In honor of your contributions, the UVICELL Center has partnered with the VI Office of Veteran Affairs to ensure that members of the armed forces can have access to the support and services needed to explore continuing education opportunities. 
CELL offers a wide array of programs to help you achieve your personal and career goals.  Programs include: 
In-class programs: whether you're looking for computer training, bookkeeping, real estate or cake decorating courses, we welcome you to visit our upcoming courses page to get the latest information on our in-class programs.  
Online Programs: with over 500 online courses to choose from, you can select the area and course that best fits your needs.  Whether your focus is in healthcare, green energy, education, or business, we encourage you to explore our extensive array online courses.    
Best of all, our programs are FREE to VI Veterans. All you have to do is contact the Office of Veterans Affairs to determine if you qualify.
Office of Veteran Affairs
St. Thomas: (340) 774-8387
St. Croix: (340) 773-8387
Getting Started
Complete and submit application
Visit the Office of Veterans Affairs to take advantage of free educational opportunities afforded to V.I. Veterans.
Non-local Veterans can bring a copy of their DD214 to the V.I. Department of Labor and inquire about our programs, but you must meet eligibility requirements.