Are you new to the workforce? Interested in making a career change? Or are you pursuing advanced training in your professional field? UVI CELL offers a wide-array of lifelong learning programs designed with adult learners in mind.
Our programs incorporate the unique learning styles and needs of adults and provide the flexibility to fit the pursuit of knowledge into your busy life. Our goal is to provide relevant programs that will empower you to reach your life and career goals. So whether your goal is to upgrade your skills, change your career path or explore a new interest, there is a rich array of options for you to choose.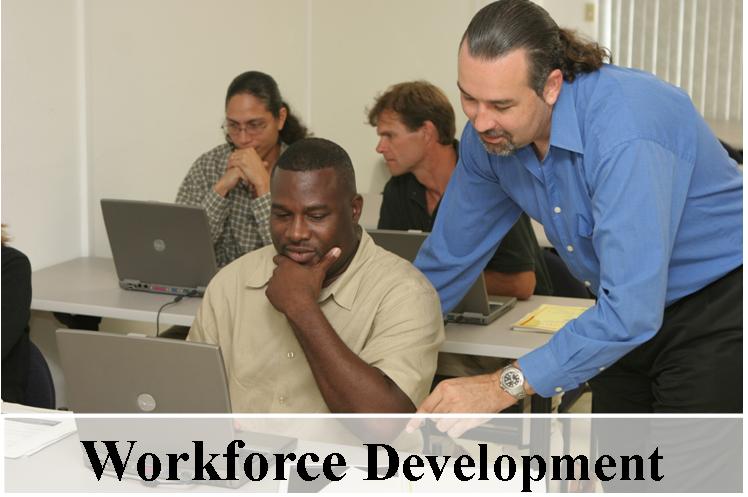 A proactive approach to building a highly-skilled workforce through individual skills training.
A well-trained workforce provides a competitive edge critical in today's constantly changing and increasingly technical marketplace. Businesses require maximum productivity, efficiency and a workforce armed with a variety of skills and experiences to meet their needs.
UVI CELL is committed to promoting economic development by providing the training required to develop and maintain a highly-qualified workforce with the skills necessary to succeed.
Whether you're just starting out in your career, re-entering the workforce or need to obtain skills to enter the workforce, UVI CELL can play a vital role in shaping your future by providing you with skills to be competitive in today's global economy. Increase your earning potential and attain occupational skills by participating in CELL's workforce training programs.
Courses to build careers, improve employability, and improve job performance.
The Center for Excellence in Leadership & Learning (CELL) Center focuses on providing innovative programs for seasoned professionals to enhance their capabilities. Our Professional Development programs provide career training and skill enhancement and are designed to get your career on track or move you up the career ladder. Classes are taught by experts from the community and are offered at convenient times for working professionals.
UVI CELL also offers certification programs aimed at providing an opportunity to achieve professional designations in particular fields. Courses offered by UVI CELL can help fulfill your needs for certificate, certification, and professional continuing education units (CEUs). Our professional development programs can help you:
Get the latest knowledge and skills in your field

Build your confidence and enhance your resume

Prove your level of expertise to your employers and clients and compete for top jobs with credentials earned by passing professional exams.
Meet licensure requirements, a must for many professional or job-specific organizations.
Courses to improve your life, your home, your business, and your family.
Learning is a lifelong endeavor that provides new challenges and experiences for self-fulfillment. Our personal enrichment programs provide a variety of learning experiences in an array of subjects designed to improve the overall quality of life.
Open to individuals of all backgrounds, ages, and stages of life, these courses allow you to seek new challenges and experiences that enrich your life or intellectual growth. Whether you want to learn a foreign language, make beautiful floral designs, decorate a cake or even learn basic computer skills, the possibilities are endless.
Our programs include:
In-class programs: whether you're looking for computer training, bookkeeping, real estate or cake decorating courses, we welcome you to visit our upcoming courses page to get the latest information on our in-class programs.
Online Programs: with over 500 online courses to choose from, you can select the area and course that best fits your needs. Whether your focus is in healthcare, green energy, education, or business, we encourage you to explore our extensive array online courses.